PhotoModeler Premium / V2019 Releases and Pricing Changes
This post is old. Please refer to newer release posts.
---
PhotoModeler Premium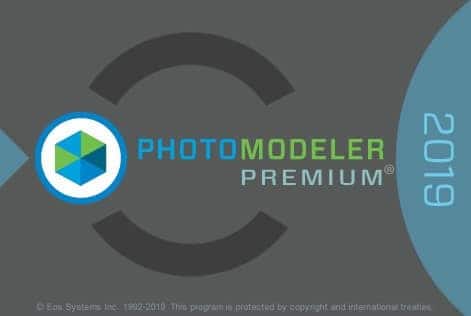 PhotoModeler Scanner and PhotoModeler UAS have been replaced by one product, PhotoModeler Premium. There are now two PhotoModeler products:  Standard and Premium.
PhotoModeler Premium is a complete super-set of PhotoModeler Standard. PhotoModeler Premium is priced as Scanner was. All the drone and UAS capabilities of the old PhotoModeler UAS product are now in Premium.
The two products are best suited to:
PhotoModeler Standard – suited to manual, CAD, Coded Targets, and single photo projects.
PhotoModeler Premium – suited to dense surface modeling, and UAS projects – in addition to the manual and target projects described in Standard.
PhotoModeler Premium adds SmartMatch, Dense Surface Modeling, Geographic Coordinate Systems, Volumes, Contours, and Motion projects.  See a comprehensive list of differences and application fields.
Customers with PhotoModeler Scanner or UAS (and that have active maintenance) can install and run PhotoModeler Premium at no cost! Just download the PhotoModeler Premium demo and install on the machine where your Scanner or UAS reside – the license transfer is automatic.
New 2019.0 Version
In conjunction with the PhotoModeler Premium release, a new version of both products called v2019.0 was released. There are many significant changes. In total there were 50 changes from the previous version.
One of the most significant changes is that the user interface changed from menu and toolbars to ribbons for tool access.  The new UI (with optional dark, light, and colorful themes) modernizes the product and makes it easier to use. In addition, there is a new concept of a Workspace to reduce the number of tools to match the current type of project.
The new features and changes are described on the Updates page. You might be interested in the 2019 User Interface Tutorial Video or the PhotoModeler 2019 – User Interface Revamp – Key Concepts article. The article is useful to current PhotoModeler users.
New Pricing
There have been several pricing changes with the release of PhotoModeler Premium. All our prices were revisited, and some changed to be lower, changed to be consistent between products, and/or adjusted.
| | | |
| --- | --- | --- |
| | Standard | Premium |
| Permanent License (includes one year of maintenance) | $995 | $2995 |
| Optional Yearly Maintenance | $138 | $398 |
| Monthly Subscription | $49 | $149 |
| Yearly Subscription | $415 | $1255 |
Prices in US dollars.
In addition these are the price changes for Maintenance Renewal on Permanent licenses:
Standard has been reduced from $175 for a year to $138
UAS has been reduced from $475 to the Premium's $398
Scanner has increased from $345 to the Premium's $398
Maintenance can now be ordered for more than one year, and there is a multi-year discount
The increment per month for past expired maintenance has been reduced
The maximum fee for past expired has increased from 12 months to 36 months
If your permanent license maintenance will expire soon you can use one of the maintenance renewal products on the store. A new maintenance renewal calculator allows you to renew expired maintenance, or maintenance for netfloat and educational licenses. In addition, you can order multiple years of renewal at once at a discount! If you deal with a PhotoModeler reseller, contact them for a quotation.

Grandfathering of Maintenance Pricing
If you have PhotoModeler Scanner or a maintenance that expired over 12 months ago, the new renewal prices will be higher. Take advantage of our grandfathered pricing by selecting the "Grandfathered price" option when calculating the maintenance cost. 
Until the end of the year, you can pick from new or old pricing, whichever is lower!
If you have a Permanent License of PhotoModeler Scanner or UAS and your Maintenance Renewal is due, or due soon, or any Maintenance Renewal that is expired more than 12 months ago, take advantage of the grandfathered pricing before Dec. 31, 2018 !  Remember that PhotoModeler Scanner and UAS with active maintenance can be upgraded to PhotoModeler Premium for free.