Fabrication and Manufacturing Applications with Photogrammetry
Do you fabricate or manufacture a fitted or custom product?
Custom fitting, retrofits, and remodeling often require measurements and drawings of a remote location or a client site so that a part can be manufactured or fabricated to fit. Photogrammetry creates measurements and diagrams using a normal camera. Instead of having a complex and expensive device for field measurements for your retrofit or remodeling business, you only need a camera and a tape measure.
There are several applications for photogrammetry in manufacturing and fabrication. Here we refer to applications where measurements are made in the field and an object is manufactured at a factory to fit those measurements. That is, the custom fitting, refit, retrofit, or remodel application.
Compared to most other accurate field measurement technologies, photogrammetry (or camera-based measurement) has these major advantages:
Little to no specialized equipment
Lower cost
Faster in-field measurement
Some example applications for photogrammetric measure in manufacturing are:
Measuring kitchens & baths for manufacture and install of counter tops and cabinets.
Measuring boats for manufacture and install of covers, biminis, decking, and upholstery.
Measuring stairs for manufacture and install of stair lifts and railings.
Measure pools for covers or new liners.
What these applications have in common is the need to obtain accurate measurements at a remote job site and return those measurements to the factory for further CAD work and then manufacturing of the objects and parts.
A bit more detail is shown in the Easier Measurement for Retrofit Manufacturing blog post.
A pdf brochure can be found here.
Applications in Manufacturing Retrofits
There are several applications of photogrammetric measurement in retrofit work. Three of the most common ones involve stairs (for lifts and railings), kitchen refit, and boat templating. The following sections show examples of each.
Stairs
There are two main applications in measuring staircases in homes and offices. The first is the retrofit of stair lifts, and the second is measuring for more complex banister / railing installation (curved stair cases).

Curved staircase modeling with Coded Targets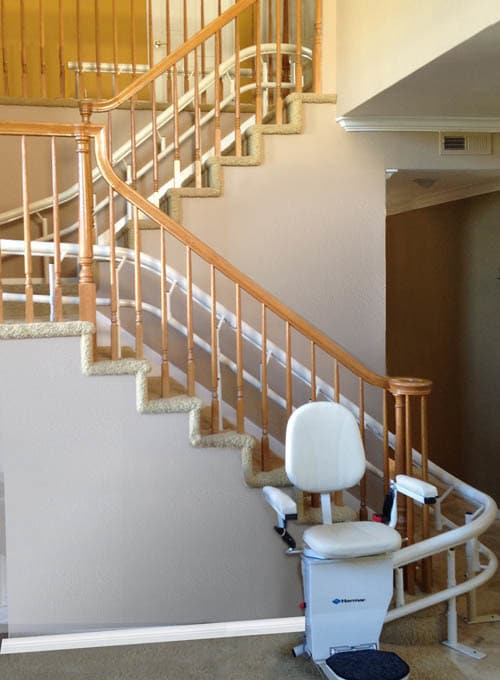 Typical complex stair lift install (courtesy Harmar)
Kitchen / Bathroom
Kitchen and bathroom remodels, or new construction requires accurate measurements of walls shape, dimensions, and placement of existing cabinetry and outlets for complex cabinet and counter-top installs.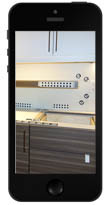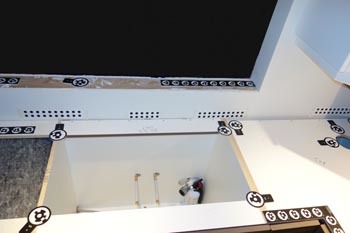 Kitchen measurement for counter top manufacture
Boats
There are several applications of measurement and modeling needed with yacht and pleasure craft retrofit. Examples are manufacture of full or partial boat covers, biminis, windscreens, complex decking, and upholstery.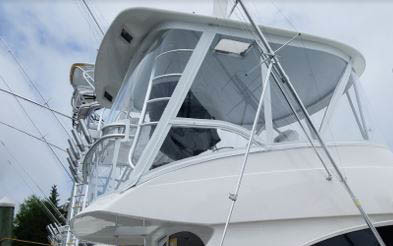 Windscreen installed after templating
There are a number of useful resources to learn more about the use of PhotoModeler in boat canvas and part creation: