PhotoModeler Product and Price Changes and the 2020.2 Release
PhotoModeler 2020.2 has been released!  There are changes to program features, the product line up, and some prices.
PhotoModeler 2020.2 New Features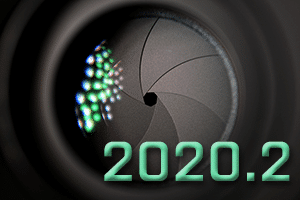 The PhotoModeler 2020.2 release has over 50 changes. View the full list of new features, enhancements, and changes here. Here are a few of the interesting improvements:
Flattening for 2.5D Surfaces
If you are creating 2D materials (such as those being cut on a digital plotter/cutter) in an application where you are outlining regions on surfaces that are close to flat but aren't quite (such as a subtle curve to a boat deck), this new feature will be of interest. When you export the Surface Draw data from PhotoModeler as a 2D file (dxf or svg) for CAD work or cutting, any variation of the surface from perfectly flat will cause distortion. Your distances and shapes may not be quite right in the export. This new flattening ability will flatten different regions separately so you are exporting an accurate representation of the outlines on various planes at different inclines.
Interactive Referencing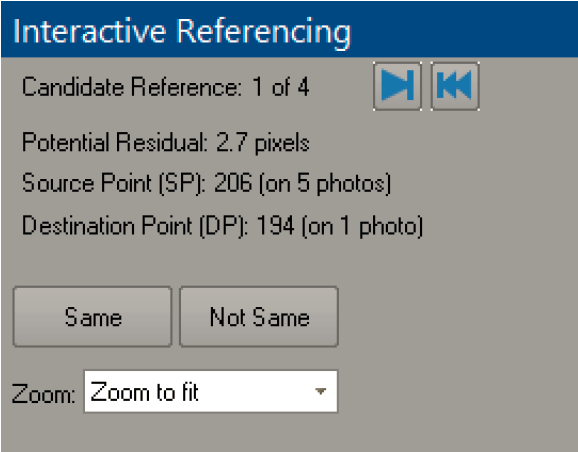 Referencing and matching points between photographs is a key concept in multi-photo photogrammetry.  PhotoModeler has a few different tools for doing it so you can find the best fit for your task. The new Interactive Referencing tool can be thought of as a 'review and clean up' tool.  It is a great method for ensuring all your points are referenced completely on all possible photos. You can run it after manual or automatic referencing as a check.  When this tool is activated, PhotoModeler searches your current set of 3D points to see if any other marks or points share the same location. Try it, you'll find it very handy!
Automatic Referencing Improvements
In a processed project the Automatic Referencing tool is used to reference a large number of 2D point marks.  These points can be targets or manually marked.  Thanks to a revamp, even more matches will be found!  The Automatic Referencing dialog also includes a new residual threshold to only allow matches under this value. This can help reduce errors, even with large search distances, and works great with large projects.
Simplification of the Network Floating Setup
Network Floating licenses now have a simplified installation process and there is no longer a separate Netfloat Installer. Now both the Standalone and Netfloat are installed with the same installer executable, and the difference comes with how they are activated when first run. It also means that if a staff member downloads the demo/eval installer by mistake, it is easy to convert it to a network floating client.
Product Line Up Change
The Template Capture Addon has been merged into the base PhotoModeler Standard product and is no longer a separate product.
There are now two products: Standard and Premium. The Template Capture Addon capabilities (designed to assist with photo digitizing 2D templates and patterns) are now included in both Standard and Premium at no extra cost.
If you own the PhotoModeler Standard + TPCA bundle now, your activation code will work in PhotoModeler Standard going forward, and all your template capture capabilities will remain in full force (inside the Standard product).
The TPC addon caused confusion for some people needing functionality from both the Standard and the Template Capture products.  Rolling the addon into Standard simplifies this, and means access to the Template Capture capabilities is less expensive!  If you already have a Template Capture addon subscription your price has already been lowered to match Standard. To see more on the differences between PhotoModeler Standard and Premium products see the comparison page.
Product Price Changes
In conjunction with the product line up change, there has been a price increase to the Standard Subscription (both monthly and yearly).  PhotoModeler Standard is now $59 usd/month or $475 usd/year as a subscription. Note if you have an active Standard Subscription your price will not change. If you have an active Standard w/ Template Capture Addon Subscription your price has already been lowered to these new prices – no action is needed on your part.
PhotoModeler Standard Permanent licenses remain at $995 usd and the yearly maintenance on PhotoModeler Standard Permanent increases to $158 usd/year. No PhotoModeler Premium prices have changed.
In summary, if you have an active subscription, your next renewal price will not increase, and in some cases will decrease. As long as your subscription remains active your price will not increase. New subscriptions for PhotoModeler Standard will be at the new price ($59/month or $475/year). Permanent license prices have not changed.
Please contact sales@photomodeler.com if you have any questions about the changes.