Tip 50: PhotoModeler's Drag and Drop Interface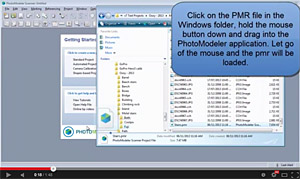 A quick tip today. Many modern apps accept some form of drag and drop. The ability to click on a file in the Windows File Explorer and drag into an open app improves ease of use and efficiency. PhotoModeler can accept two different file types for drag and drop.
You can drag a PhotoModeler project file (pmr) into an open PhotoModeler window and that file will be opened (closing, and optionally saving, any project that is already open). You can also drag image files into an open PhotoModeler window.
You can drag and drop one of more images to add them to a project instead of using the Add/Remove Photos Dialog. If the image files have EXIF data (a standard header than most digital cameras write), the images will be automatically matched to cameras in the PhotoModeler Camera Library. If there is no match in the library then the camera information will be requested.
Watch the Youtube video to see a quick demonstration of the two processes. Also take a look at PhotoModeler's Comprehensive Feature List.