Tip 40: PhotoModeler's 3D Viewer Controls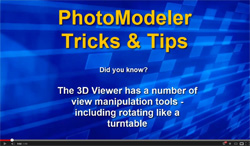 We have a short video tip for you this week (less than a minute!). This tip video points out a small feature that would normally be hard to find. That is, the use of the CTRL key to modify how view rotation works in PhotoModeler's 3D Viewer.
The video first reviews the standard ways of manipulating the view point. The video then goes on to show how the CTRL key provides a view rotation that is like a turntable like rotation.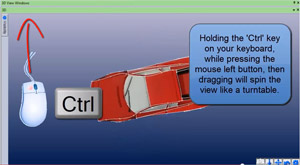 This screen from the video shows using the CTRL key on the keyboard while simultaneously dragging the mouse to get a different type of rotation.
View the Youtube video (change to 720p for best viewing):