Tip 33: Using a Plane and Mesh to measure volume in PhotoModeler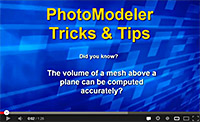 There are a number of applications where measuring the volume under a mesh surface is important – volumes of stock-piles is a common industrial example.
A standard procedure for measuring volume is to first determine a reference plane and then obtain the volume of the mesh surface above that plane.
This tip video first shows a SmartMatch / DSM project of a small sand-pile experiment to show how to set up the Plane surface, how to get the volume between the mesh and the plane, and the results of an accuracy test.
Then a real stock pile, photographed from a UAV (unmanned aerial vehicle), has its volume measured in a similar fashion using this photogrammetry technique.