Tip 26: Create an UAV ortho-photo mosaic in PhotoModeler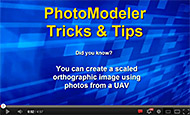 UAVs (Unmanned Aerial Vehicles) and drones are big news these days, not only in military use but more so with many new commercial and public safety applications. With cost-effective fixed-wing and multi-rotor UAVs capable of carrying camera payloads coming on the market, the sky has literally been opened to new possibilities!
Aerial photogrammetry was once the sole purview of full-size manned aircraft with expensive aerial photogrammetric cameras. Now relatively inexpensive and intelligent UAVs (fixed-wing and multi-rotor) that can carry consumer and prosumer cameras have changed who has access to aerial mapping systems, instead of limiting their use only to large budget projects. Examples of UAV photogrammetry are golf course mapping, large accident scene diagramming, mining documentation, and stockpile volume measurement. Wikipedia has further information on UAVs.
Advances in photogrammetry software have made using the images from UAV cameras much easier as well. There are a number of interesting outputs from UAV photogrammetry such as maps and diagrams, contour maps, DTMs, volume measurements, ortho-photos, and photo-mosaics. PhotoModeler Scanner can work with any UAV platform to assist with all these different tasks, and in many cases with a high degree of automation using the SmartMatch capability.
In this tip video, we show how to create a DEM, and an ortho-photo mosaic (a photograph comprised of multiple input images where all perspective and camera distortions have been removed). The project is run using SmartMatch automation. The video ends with a description of a geo-referenced ortho-photo output – great for use in a GIS.
The photos in this video's project were shot by a hexacopter UAV from Duwatech.