Tip 20: Color and Texture an Imported Point Cloud in PhotoModeler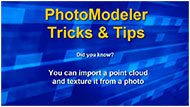 This tip video demonstrates a technique available in the new PhotoModeler 2012.2 release. If you have a 3D point cloud from a 3D scanner (like a laser scanner) that you would like to match to a digital photo to color the points, PhotoModeler 2012.2 can do that. The 2012.2 release is called the "Laser Scanner Integration Release" because of a number of new features that make importing and using dense point clouds in PhotoModeler possible and/or easier.
The video demonstrates importing a laser scan, loading a photograph of the same area, and marrying them together using control points from the point cloud. The results are: a) a solved camera position (the angles and position of the camera that took the photo relative to the laser scan data), and b) a high-accuracy extraction of RGB color data from the photo and assignment to the points in the cloud.