The Impossible Movie gets help from PhotoModeler and Photogrammetry
The Impossible, a movie starring Naomi Watts and Ewan McGregor, based on the true story of a family's experience during the 2004 Indian Ocean tsunami, contains key sequences that PhotoModeler helped produce. The Impossible's visual effects team, Le Ranchito, based in Madrid, Spain, used PhotoModeler to help produce the critical models for the flood and hotel scenes.
The film is nominated for a 2013 Visual Effects Society Award: "Outstanding Models in a Feature Motion Picture" / The Impossible: Orchid Hotel (Markus Donhauser, Patrick Lehn, Angel Martinez, Juergen Pirman) Feb 5, 2013. The lead, Naomi Watts, has been nominated for a 2013 Best Actress Oscar.
The photogrammetry effects supervisor, Magoga Piñas, is shown below in a photo from our reseller in Spain, CAESoft.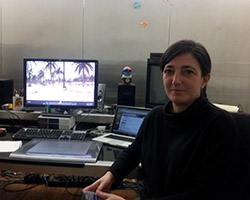 Magoga Piñas has spent 20 years working in the world of 3D. Besides having her own studio, she works at El Ranchito, a company dedicated to the post-production and visual effects for film and advertising. El Ranchito was responsible for producing the visual effects of The Impossible. Magoga was the person responsible for supervising the work in 3D and filming assistance.
PhotoModeler was used, along with other programs during the post-production. Magoga was responsible for the environment models: "the flood", and The Orchid Hotel using PhotoModeler.
For more detail visit the The Impossible & PhotoModeler page. This video shows how the layers were built up to generate the final sequence.