PhotoModeler 2017.1 Release and Improvements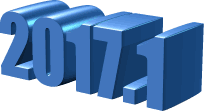 PhotoModeler version 2017.1 was released Aug. 22nd, 2017.
The 5 goals of this release:
Add features to improve certain types of industrial measurement projects.
Further improve capability, speed, and stability of SmartMatch projects.
Add a project upload tool for easy communication with the PhotoModeler Support team.
Provide the help file in a PDF format.
Fix some bugs.
Getting the update
If you are a current user of PhotoModeler Standard, Scanner or UAS, and your maintenance agreement is up to date, use Check for updates (Getting Started dialog in the software) to get the latest, or see the Updates page. If you are a demo or a trial customer that wants to try the latest improvements you can re-download the software.
Industrial Measurement Improvements
The work flow for certain types of projects (esp. in the industrial measurement and modeling area) are improved with these new capabilities:
Cylinder objects now have end points as first-class objects (can be connected to, exported, etc.).
Scale/Rotate/Translate coordinate system improvements:

A project can now have more than one coordinate system rotation object defined (with one active at a time). Multiple scales were already available. This makes switching between rotation definitions faster.
SRT tags can optionally appear on photos always (prevents you from deleting key points by mistake).
Projects can optionally start with an empty SRT defined (saving a few steps on setting up a new one).

Curve and surface draw curve enhancements for more easily creating sharp corners and for correcting the last mark. Useful in 2d template work, forensics, and skid/yaw mark modeling.
A text file, containing a series of DDE commands, can be placed on the command line so these commands can be run from shell scripts.
SmartMatch Improvements
SmartMatch, which is used in Automated smart-point projects in PhotoModeler Scanner and PhotoModeler UAS, has big improvements. Detailed algorithmic work was done to make it faster in most cases, to make it more stable and orient more photos in difficult cases, and to make it more consistent (running same data multiple times produces same results).
Support File Upload Facility
If you ever need to send a project, its images, or associated files to PhotoModeler support, there is now an easy-to-use, embedded tool to do that. With just a few clicks you can upload your data to the PhotoModeler support server so that our support team can help you with any issues you might be having.
PDF Help
The help documentation is available as both the original Windows help file (.chm), and now a PDF file.  The contents are the same. The Windows help file is still linked from the program menu and the dialogs. The PDF is installed in the Program Files – PhotoModeler install folder. Some people find scanning, and perusing a pdf file easier than paging through Windows help. It is also easier to print sections if you wish. The PDF help file also has active hyperlinks (matching the chm), and a chapter/sub-chapter hierarchy for easy navigation.
Fixes
There are approximately 30 fixes, over and above improvements described above.  See the full list here.