How Scientists Use Photogrammetry to Study Climate Change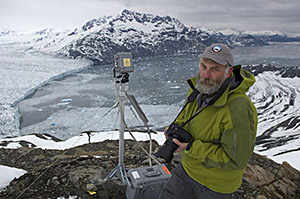 Tad Pfeffer surveys glaciers. Currently a professor at the University of Colorado and fellow of the Institute of Arctic and Alpine Research (INSTAAR), he has spent the last 30 years studying these rivers of ice as barometers of climate change, and his work finds him mapping ice flows and cliffs in some very remote places. He relies on photogrammetry in general as a key tool to help him accurately capture these isolated formations, and has made PhotoModeler Scanner his preferred photogrammetry software.
In one such study, Tad has used PhotoModeler for three years to map ice cliffs on the summit of Mount Kilimanjaro. Over time, he and his colleagues have created a series of point cloud DSMs (Digital Surface Models) of ice cliff surfaces and compared them to detect changes.
"Terrestrial photogrammetry has been an indispensable tool here, where any measurement tool must be carried by hand to over 19,000 feet," says Dr. Pfeffer. "Our ability to make highly precise maps with nothing more than a calibrated DSLR camera and tripod has been crucial to our success here."
Terrestrial photogrammetry is favored by scientists and geologists who need a cost-effective way to accurately measure and perform 3d scanning of geologic structures such as rock faces, glaciers, and ice walls. All you need in the field is a standard digital camera, then back at the office or field camp, a notebook computer and the PhotoModeler software complete the set.
Why is glacial monitoring important? Glaciers are a barometer of our global climate. In addition if they melt rapidly they affect sea levels (with potentially huge economic and demographic effects), and change the dynamics of sea and air currents – further exacerbating climate change. Monitoring glaciers for changes in size, and the rate at which they grow or shrink is key to understanding of our world's climate.
At Eos Systems, we can't help but be proud of the success Tad and his colleagues have had using PhotoModeler. We've recently awarded him a grant which will help him expand his team and terrestrial photogrammetry activities in Alaska and Svalbard, Norway. The grant provides three years of support (software licenses and technical assistance).
Congratulations, Tad!
Do you have a similar application for photogrammetry you'd like to share or ask questions about? Let us know at stories@photomodeler.com.
Additional Resources