PhotoModeler Collision Training Courses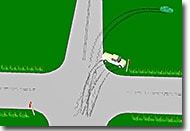 Training Courses for Collision Investigation are four or five days long and are taught by a PhotoModeler expert instructor. They are full-time (approx. 8 hours a day). The courses cover all of the award-winning PhotoModeler features that make it a valuable measurement tool in the reconstructionist's and forensic expert's toolbox.
Currently, the courses are held virtually online or in person. For the virtual course, you will be running a real copy of PhotoModeler on a virtual platform and will have instructor guidance just as if you were in person.
Next courses:
Nov. 27-30, 2023. Virtual 4-day.

Cost: $785 USD. Early bird price of $695 until Sep. 30. Courses do sell out, so book early!
The course is certified for ACTAR CEUs. Key topics include, but are not limited to:
photography techniques
scene diagramming and mapping from photos
scene and crush measurements
evaluating the accuracy and developing standard operating procedures
exporting to a CAD package for further enhancement and diagramming
measurements from single photos and/or photos from unknown cameras
photo-realistic surfacing for visualizations and rendering
nighttime photography and the use of sub-pixel marked, retro-reflective targets
orthophoto and rectified-photo generation
video frame analysis from body/surveillance/dash camera footage
working with LIDAR 3D scan data
use of drones and UAV in accident reconstruction
uav flight planning & ground control points
admission of photogrammetry and PhotoModeler into court
Standard and Premium product additions and differences
Participants will complete many practical examples and finish with a field project that will have them work on the project from the beginning (photography) to the end (CAD export). After completing the course, attendees can expect to be comfortable in using PhotoModeler and methods of photographing vehicles and collision scenes for this purpose. Attendees will receive a certificate to indicate that they have proven a base knowledge of PhotoModeler and have the expertise to properly complete measurement projects.
Course Requirements
The requirements for the virtual training platform are a modern computer with a high-speed reliable internet connection. A webcam for zoom-video attendance is not mandatory but recommended. We also highly recommend you have a separate digital camera for the photogrammetry assignments. A mobile phone camera can do in a pinch, but it may not be as reliable.
Also, note that these courses are run like in-person courses in that you will attend for a full 8 hour day with full attention and little distraction. You won't be in a classroom but it would be best if you can set yourself up at home or the office as if you were. There will be breaks during the day, and the number of days depends on the course (this one is 4 days).
The in-person courses have slightly different requirements – see course product listing for details.
Course Leaders
Our course instructors are Dan Mills, a trained collision reconstructionist who has used PhotoModeler extensively while working with national transport authorities and Tod Whitfield who has thirty-one years as a police officer, finishing his career as a forensic specialist and Sergeant in charge of the lab for the Toronto Police Forensics Unit.
ACTAR Credits
Accreditation Commission for Traffic Accident Reconstruction (ACTAR) has approved the PhotoModeler courses for CEUs for accident reconstructionist members. After the course is complete, PhotoModeler Technologies will submit the proper documentation to ACTAR, and CEUs will be credited to the practitioner's training account. The PhotoModeler Collision Reconstruction course is eligible for 32 CEUs.