PhotoModeler Coded Targets and Automation
How to automate some measurement tasks
Automation of 3D point extraction and/or the project setup (initial marking, referencing, and orientation of photos) can be done in two ways. In both PhotoModeler products, the Coded Target feature provides one form of automation. Coded Targets are described below. In PhotoModeler Premium, the SmartMatch feature carries out a similar function with non-targeted points.

A coded target is a high contrast dot with a pattern around it that is placed in the scene before photography. The targets are identified automatically by the program from the images. There are two forms of coding – the RAD target, and the non-ringed coded target.
The RAD target (pictured to right) is more robust and recommended for most new projects. These targets are printed easily on your own printer at the required size and quantity from within PhotoModeler. If you need a more permanent configuration you can send postscript files to a sign shop for production in vinyl, or visit one of the 3rd party manufacturers listed below.
The offset coded target provides an automated method for obtaining the location of a point where a target cannot be placed (such as in a corner or under a lip). These can also be printed on your own printer. Each offset pair has two RAD targets and a 3rd offset point that gets measured automatically: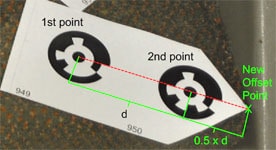 Capabilities
The Coded Target capabilities in PhotoModeler include:
printing of targets to a Windows printer or to a Postscript file
high accuracy sub-pixel marking of coded target dots
manual marking with automatic referencing of coded targets
automated marking and referencing of coded targets in a region, whole photo, or multiple photos
fully automated point-based projects using coded targets
ability to mark targets in natural environments with 'noisy' backgrounds
naturally lit targets (no flash required) (although reflective targets with a flash can be used too)
Up to 999 unique target codes available (with new RAD targets available in version 6.3+). 8, 10 and 12bit unringed coded targets have fewer codes.
Offset target system which provides an automated method of obtaining a 3rd 3D point that would not normally be accessible by using two other coded targets
Applications
Coded Targets can assist with virtually any project (optimal with scene/object sizes from 50cm (19in) up to 30m (100ft)). Most PhotoModeler projects require the basic geometry of the camera stations to be solved (called orientation) and coded targets provide a very quick way of doing this.
Target sizes w/ Nikon D90 and 20mm lens

Photo Coverage†

Approx. target size

50cm / 1.64ft

8mm / 0.31″

2m / 6.6ft

32mm / 1.26″

10.5m / 34.5ft

168mm / 6.6″ ‡

14m / 46ft

223mm / 8.8″

† scenes can be larger – this is typical 'ground' coverage for each photo.

‡ largest RAD target that can print on a 8.5″x11″ sheet.
Target dots are used (along with PhotoModeler's subpixel marker) in any application where high accuracy 3D points are needed. In these applications you can further automated and speed up these projects by using Coded Targets
| | | |
| --- | --- | --- |
| Fully automated measurement of a manufactured part | Automated Offset Target measurement of a stair case | Coded Targets used to automate project setup in Scanner |
| | | |
You can see coded targets in use in the tutorial video: Automated Coded Targets. See how to print and create coded targets in the Creating Coded Targets video.
3rd Party Target Manufacturers
The companies listed below sell dot targets for general photogrammetric use, and several also make coded targets for specific use with PhotoModeler. Targets can be printed from within PhotoModeler on your printer but in situations where greater robustness is needed the products below may be what you need. Note that these companies are not related to or supported by PhotoModeler Technologies. Please contact them directly for information on availability and pricing.