PhotoModeler in Accident Reconstruction and Trade Show
PhotoModeler has been the premier photogrammetry tool for accident reconstruction and incident scene forensics for more than 20 years.
Continuing with that tradition we announce two items:
Upcoming AR Conference Booth
Drones / UAV in Accident Reconstruction Page
Accident Reconstruction Conference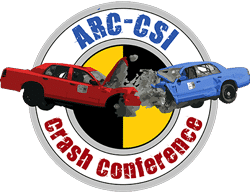 PhotoModeler will have a booth at the 2017 ARC-CSI Crash Conference, September 18-21, 2017, at the South Point Hotel, Las Vegas, NV.  If you are attending the show please come by for a chat!
We will be demonstrating the newest in drone / UAV use with PhotoModeler as well.
Using Drones in Accident Reconstruction
PhotoModeler has been used since the early 1990s as a key tool in the accident reconstructionist's toolbox. For the most part, until recently, this photogrammetric work was done with ground-based photography, or if done with aerial photos, it was with a full sized aircraft. Within the last few years, the use of drones in many applications, including accident reconstruction, has taken off (no pun intended!).
There are a number of police forces, and independent forensic engineering firms using drone imagery with PhotoModeler. Combine this with PhotoModeler's world-class ability to handle ground-based photography and 3D modeling, and you get a killer tool for the the forensic and reconstruction specialist.
The PhotoModeler website has a new page: Accident Scene Mapping with UAV / Drones that details the process further and shows some examples. One of the unique examples shown is a nighttime MVA (motor vehicle accident).
Additional accident reconstruction and forensic drone samples, tutorials, etc. will be made available over the coming months.