PhotoModeler 2016.2 Release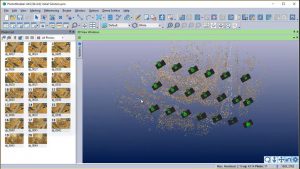 PhotoModeler 2016.2 was released Nov. 28th, 2016.
This release has three significant improvements:
PPK – GPS Post Processing Kinematics Support
UAV / drone video tutorial with real UAV data
Processing speed improvements
For further information on PPK and how to do high accuracy surveys with drones see the PPK blog post.
There is a new a step-by-step tutorial video (with included real world data) that demonstrates creating a UAV/drone project that has GPS camera data and ground control points (GCPs). You can download the data and follow along yourself.  The data will load into the PhotoModeler UAS Demo as well.  The tutorial video can be seen here and the project data (with photos, gcp file, and sample projects) is available in a zip file at the bottom of the tutorials page.
The speed improvements come in the orientation stage of Smart Projects in PhotoModeler Scanner and PhotoModeler UAS.  Projects (esp. ones with a large number of photos) complete much more quickly now.
In addition there were 13 improvements, and 20 fixes.
The update is available on the Support Updates page, or via Check for Updates within the software.