PhotoModeler 2016.1 and PhotoModeler UAS Release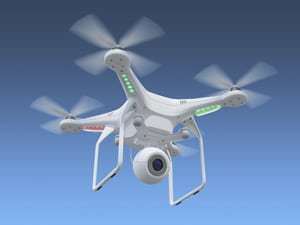 There is a lot of excitement over drones and UAVs these days, and rightly so! UAVs bring new a capability to inspect, document, measure and model objects and larger scenes that is difficult to do from the ground. They literally give you a new perspective! As well, more PhotoModeler customers are taking on 3D measurement, modeling and mapping tasks with drone and UAV photography.
You've been asking for improved capabilities and new features to make your work easier in mining, stock pile monitoring, agriculture, accident scene mapping and other similar tasks that are well addressed by photos taken from the air.
We have been working hard in the last year to create some very powerful new capabilities in PhotoModeler for UAV work, and as a result we are releasing a new product called PhotoModeler UAS, or 'PhotoModeler for Unmanned Aircraft Systems', today.
New Product Line Up
Our line up has been restructured into these three PhotoModeler products:
PhotoModeler Standard
PhotoModeler Scanner
PhotoModeler UAS
The existing product PhotoModeler Motion is being retired and its capability for tracking 3D objects over time will be rolled into both PhotoModeler Scanner and PhotoModeler UAS.
The release of PhotoModeler UAS and the product line-up reorganization coincides with the new version PhotoModeler 2016.1. There have been numerous updates to all three products with improvements, bug fixes and new features.
PhotoModeler UAS
PhotoModeler UAS is aimed at those using UAV / drone platforms for generating surface models, orthophotos, or volume measurements.
The following lists the features that are included in the new PhotoModeler UAS (PMU):
Powerful UAS-Focused Processing
The process that takes images as inputs and produces accurate 3D and map data as output, has powerful capabilities that make more UAS projects possible. For example, the processing has new capabilities to handle GPS data from your UAV to improve accuracy and speed (e.g. a 230 photo project to mark, match & orient took 1.5 hours, but only 45 mins in PMU).
Volume Objects
Easily model and measure stock piles or other similar terrain shapes, and obtain accurate volumes.
Multi-spectral Image Support
In agriculture and biological fields create and export 3D models or ortho-mosaics with draped multi-spectral image analyses such as NDVI, CIR, G-NDVI, and SAVI.
Geographic Coordinate Systems
Import surveyor data, and export 3D and 2D data in a geographic coordinate system such as UTM, state plane or Latitude/Longitude. Work in a system compatible with your GIS or mapping system.
PDF Report Generation
Generate a nicely formatted summary report of the project in PDF format. Suitable for internal documentation or sending to clients.
Contours (major/minor)
Create, display, overlay and export minor contours with a different look than major contours. A great visualization of height used by map makers.
The PhotoModeler Products page outlines the differences between the three products.
New UAS Videos
There are two preliminary videos showing some of the new PhotoModeler UAS functionality. More to come!
PhotoModeler 2016.1 Changes
In addition to the new PhotoModeler UAS product, PhotoModeler and PhotoModeler Scanner also received a number of improvements and fixes.  One goal of 2016.1 was to improve stability as well.  Some of the significant changes in 2016.1:
Locate function:  more easily find 3D imported points and 3D project points on photos before they have been marked using new Locate and Find Projected functions.
Photo-texturing improvements:  quality textures are generated only once and have higher resolution (map per mesh now instead map per project).
UI speed improvements: for projects with larger number of photos there have been a number of speed improvements in the user interface.
Orthophoto quality improvement: orthophotos have a new subpixel method to give higher quality (as seen at higher zooms)
Background check for updates: once per day (under user control) PhotoModeler will check for any updates available and inform you – easier to stay up to date with fixes.
Auto-calibration improvements (scanner): Camera auto-calibration has been improved and made more stable providing better camera calibrations in more cases.
If you are one that likes detailed lists you might be interested in seeing the complete list of 2016.1 changes to all 3 products.  Start reading this changes page from '2016.0.9 – BETA [July 20, 2016]' and up (2016.0.8 was most recent public release).